Anyone in the world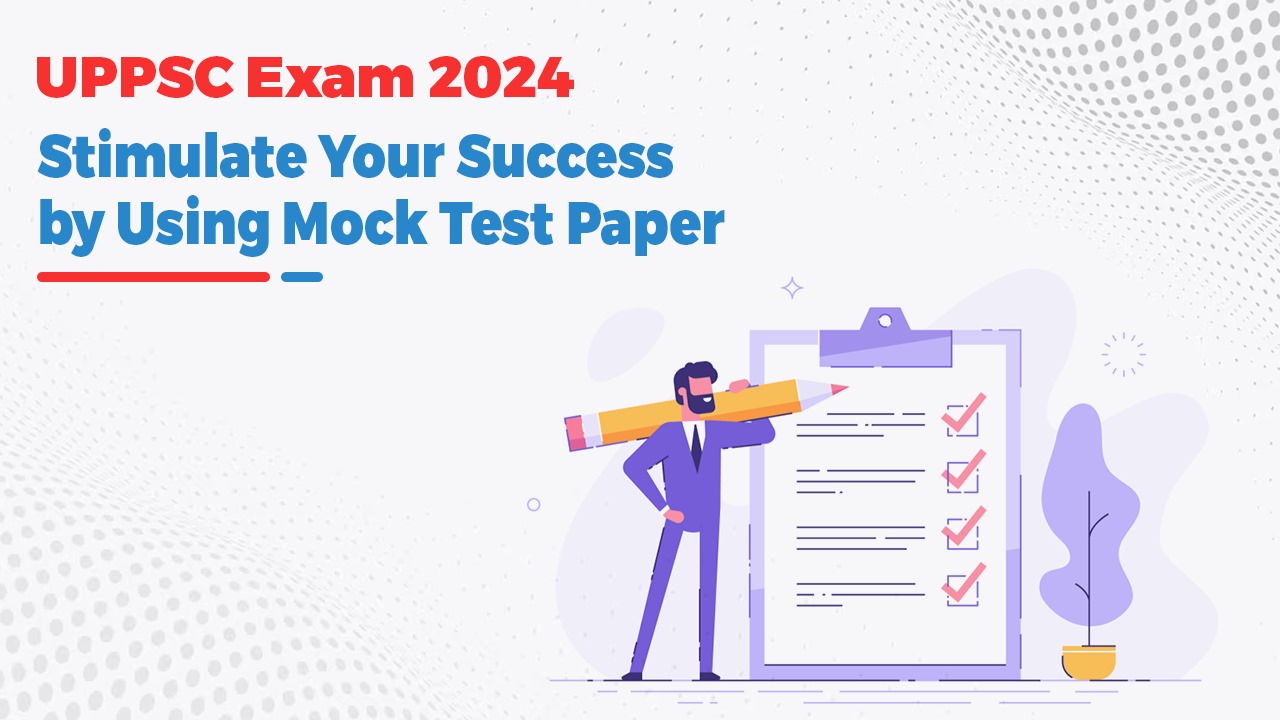 Are you gearing up for the UPPSC Prelims Exam 2024? If so, you're already on the right track to a promising career in the civil services. However, success in this highly competitive examination requires more than just determination and hard work. To ensure that you're thoroughly prepared, it's essential to incorporate the use of UPPSC Previous Year Papers, master the UPPSC Syllabus, and select the right UPPSC Books. But there's another crucial tool that often goes unnoticed – UPPSC Mock Test Papers. 

Before delving into the benefits of mock test papers, let's remind ourselves of the importance of the UPPSC Prelims Exam 2024. This examination serves as the gateway to a prestigious career in the Uttar Pradesh civil services. It's a highly competitive test that requires extensive preparation and a deep understanding of the UPPSC Syllabus.
One of the most effective ways to prepare for the UPPSC Prelims Exam 2024 is by studying UPPSC Previous Year Papers. These papers provide invaluable insights into the exam pattern, question types, and the level of difficulty you can expect. By analyzing these papers, you can tailor your preparation to match the specific requirements of the UPPSC exam.
Understanding the UPPSC Syllabus is crucial for a targeted and efficient study plan. It outlines the topics and subjects that will be tested in the exam. By aligning your preparation with the syllabus, you can ensure that you cover all the essential areas. This knowledge is vital for selecting the right UPPSC Books and resources.
UPPSC Syllabus for 2024 Exam – Click Here
UPPSC Books -Your Trusted Companion
Selecting the right UPPSC Books is like choosing your companions for a long journey. They should be reliable, comprehensive, and aligned with the UPPSC Syllabus. It's recommended to refer to standard textbooks and study materials that have been specifically designed for UPPSC preparation.
Supercharging Your Preparation with UPPSC Mock Test Papers
Now, let's talk about the secret weapon to supercharge your UPPSC Prelims Exam 2024 preparation - Mock Test Papers. These are simulated exams that mimic the real UPPSC Prelims Exam environment. Here's how they can benefit you:
By taking mock tests regularly, you'll become more comfortable with the exam setting. This helps reduce anxiety and nervousness on the actual exam day. Mock tests also serve as a means of revision. Going through the questions you answered incorrectly allows you to revisit those topics and improve your understanding.
Recommended Links:
Best UPPSC Prelims Books for the 2024 Exam
UPPSC Prelims Previous Year Question Paper for 2024 Exam
Conclusion
As you prepare for the UPPSC Prelims Exam 2024, remember that success is not solely dependent on hard work but also on smart preparation. Utilize UPPSC Previous Year Papers to gain insights, master the UPPSC Syllabus, and choose the right UPPSC Books. However, don't underestimate the power of Mock Test Papers. They are the missing piece that can stimulate your success and propel you toward your dream of a career in the Uttar Pradesh civil services. Incorporate them into your study plan, and watch your confidence soar as you get closer to your goal.